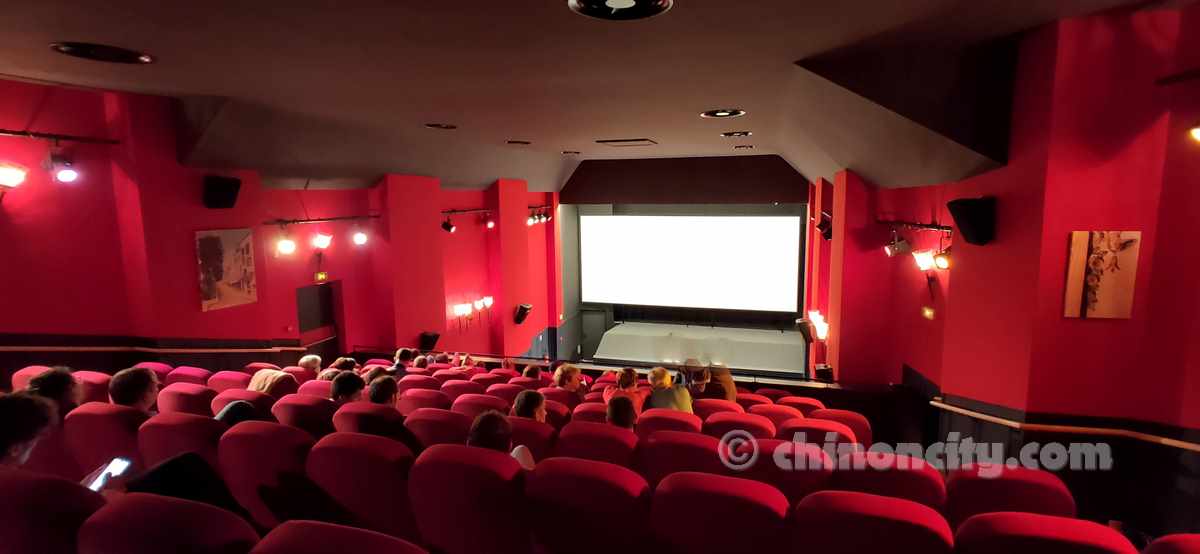 Cinema Le Rabelais, Movie Theater
The Rabelais Cinema is located in the heart of Chinon and dates back to 1922, making it one of the oldest in France with a balcony that is still in use. The oldest is the Eden Théatre which opened in 1889 in La Ciotat, and one of the most famous is the Grand Rex in Paris, which was built in 1932. The Chinon Cinema, built in a former barn, has partially retained its Art Deco façade and its main entrance on JJ Rousseau street is no longer used but retains its original appearance. Currently, there is only one hall, but two new halls are planned to be built by 2025, funded by the city. The main hall currently has 210 seats, compared to 350 in the mid-1950s, making it one of the few remaining cinema halls, and the only one in the department, to retain a balcony.
The entire cinema is warm and reminiscent of the golden age of family and general information cinema until the arrival of TV for the general public. Chinon has managed to keep its historic cinema, which is rare these days, especially after the massacre of the 1970s-80s when thousands of cinemas disappeared. There are few cinemas from that era, even if they have been modified since, and one of the oldest in France in Lyon has recently closed.
There are regular previews and events organized by the association that manages the cinema.
The sound is good and the image is too, although it does not equal the large complexes. The screen was enlarged by 20% in 2021 with 45,000€ in works, funded by the association that manages the cinema.
The seats are very nice in red velvet, although a bit firm (in my opinion) for watching a film of more than 2-3 hours, but nothing that would prevent one from watching a movie, it is planned to change them.
With a 7.5€ entrance fee and free parking on the Jeanne d'Arc square or anywhere around starting from 7pm, it is easily accessible for non-Chinon residents and within walking distance.